Grassley Direct
I spoke with several agricultural journalists on my weekly call about the renegotiation of NAFTA, mandatory country of origin labeling and agricultural appropriations in the budget.
Q&A: Civil Asset Forfeiture
Q. What is civil asset forfeiture?
Q. Are you concerned about the Justice Department's restoring a provision known as equitable sharing of seized assets between the federal government and state and local law enforcement?
Quick Links
The Senate Judiciary Committee, which I chair, unanimously approved the president's FBI director nominee, Christopher Wray. In his confirmation hearing, Mr. Wray clearly demonstrated his strong qualifications and commitment to remaining politically independent. His nomination will now be considered by the full senate. You can watch me discuss a few of my thoughts on Mr. Wray's approval here.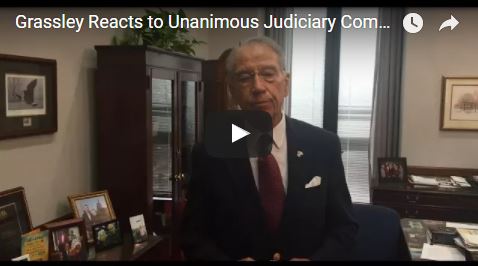 I've heard from many Iowans about how Obamacare has failed them. I'll continue to work with my fellow senators on repairing the damage done by Obamacare.
The cost of prescription drugs is too high. So a group of bipartisan colleagues from the Senate Judiciary Committee and I sent a letter to the FDA commissioner about regulatory abuses committed by some brand-name drug companies, preventing more affordable generic drugs from reaching consumers. We also reintroduced a bill that would stop this abuse, increase competition and bring down prescription drug prices for everyone.
Post of the Week