Grassley Direct
I spoke with TJ Dunphy of KSIB Radio in Creston and Eric VanSickle of Waverly Newspapers about farm bill priorities, sanctions against North Korea, Chinese import restrictions, Attorney General Jeff Sessions and NAFTA renegotiations.
Q&A: Farm Exports
Q. Why do you work so hard to expand market access for U.S. farm exports?
Q. Do you support renegotiating NAFTA?
Quick Links
I haven't missed a year of the Iowa State Fair since 1974, and one of the first things I do is go see the famous butter cow. On Thursday, I went through the livestock barns, the 4-H building and the William C. Knapp Varied Industries building and spoke with Cynthia Fodor and Steve Karlin with KCCI. Friday, I talked to Iowans at the Iowa Farm Bureau park and with Sabrina Ahmed of WOI and stopped by the John Stoddard Cancer Center booth.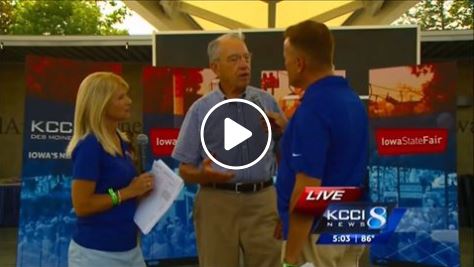 I'm asking the Trump Administration to add the topic of individuals with disabilities to discussions on promoting apprenticeships. Enhanced support for apprenticeships can put more Americans on a path toward upward mobility.
The Senate approved a bipartisan bill I introduced to crack down on waste, fraud and abuse in federal agency travel and purchase card spending. This bill builds on my successfully enacted Government Charge Card Abuse Prevention Act of 2012 by adding an additional layer of government-wide oversight to prevent misuse and identify potential cost savings.
The Centers for Medicare and Medicaid Services fixed an extension of a Medicare program critical to small, often rural hospitals. The agency was imposing delays on the extension that Congress didn't intend, and I led an effort to get the delays corrected. The fix is great news for the hospitals in Carroll, Grinnell, Newton and Spirit Lake that depend on this critical program to keep their doors open for their patients.
A new study found that according to sunshine data, about one in 12 doctors received a payment involving an opioid during the 29-month study, totaling $46.2 million. This is exactly the kind of research I hoped to see in co-authoring the sunshine provisions. Disclosure allows for the analysis of trends, like the fact that opioid makers were reaching a lot of doctors as the opioid crisis was getting worse. This is information the public should know.
Post of the Week