Dear Neighbor,
I want to share the heartwarming story of a World War II combat veteran who finally received his Bronze Star nearly 70 years after he was wounded in a fierce battle in France near the German border. I had the honor of presenting the long-overdue award to this humble hero, Jack Faulconer, accompanied by his wife Joyce, also a World War II veteran, at a ceremony in my Annandale District Office. If you or someone you know has a veteran's claim, or any other matter involving a federal agency you think I can help with, please contact my office at 703-256-3071.
Sincerely,

Gerald E. Connolly
Member of Congress
11th District of Virginia
Congressman Connolly presents World War II veteran Jack Faulconer with the Bronze Star.
(Pictured left to right: Col. Blixt, Connolly aide Lt. Joe Weeren, Joyce and Jack Faulconer, and Rep. Connolly)
Tom Jackman, 12/10/2012
Late on a November afternoon in 1944, 19-year-old Jack Faulconer of Washington crouched in a trench in the Saar Valley of France. He had been shot in the arm as his division charged up a hill held by German forces, and after lying still on the battlefield next to two comrades who had been killed, he darted into the trench.
Then he heard German voices around him. He was behind enemy lines.
Faulconer had heard stories of what the Germans did with prisoners. But he was more worried about his left arm, which hung numb and limp and useless.
Somehow, the Germans missed him. At nightfall, he crawled and scooted back to the American line and began receiving treatment for his arm. Eventually, he went back to Washington and met his future wife at Walter Reed Army Medical Center.
And Friday, slightly more than 68 years after the event, Faulconer received the Bronze Star Medal for his meritorious achievement in World War II.
"I'm very honored to get this," Faulconer, now 87, said after being presented with the medal by Rep. Gerald E. Connolly (D-Va.). "It is very emotional," he added, particularly because he received it on the 71st anniversary of Pearl Harbor.
His wife of 65 years, Joyce Faulconer, was by his side, and both are in fine health and humor.
Faulconer originally was awarded a Purple Heart and a Combat Infantryman's Badge for his service. But in 1947, the Army implemented a policy that anyone who received the Combat Infantryman's Badge was eligible retroactively to receive the Bronze Star Medal. Faulconer only recently learned of that policy.
He asked Connolly's office to check into it. First Lt. Joe Weeren, a member of Connolly's staff, an Iraq war veteran and officer in the Virginia National Guard, reviewed the paperwork Faulconer had kept for 68 years, dug into the Army archives and submitted a request in October.
Two weeks later, the Army responded in the affirmative.
Two weeks for the Army? "It was pretty amazing," Weeren said.
For Faulconer, as it was for many American soldiers, Pearl Harbor was the inspiration for his military career. But in December 1941, Faulconer was only a junior at Woodrow Wilson High School in the District. He recalled hearing the voice of President Franklin Roosevelt over the school loudspeakers the day after the bombing, declaring America's entry into the war.
"Teachers were crying," he said. "It was tragic."
Faulconer enlisted after graduation, in the summer of 1943. By the next summer, he was leading a machine gun squad in Gen. George Patton's Third Army, and they landed on Omaha Beach in France just a few weeks after D-Day.
Faulconer's 95th Infantry Division had fought in the Battle of Metz, along the border of France and Germany, and on Nov. 28, 1944, it was moving closer to the German border in the Saar Valley. Faulconer said it was about 3:30 p.m. when U.S. troops tried to take a hill and encountered both artillery and small-arms fire.
"It was terrible," Faulconer said. "All those young men in the prime of life, losing their lives. It was very, very bad. . . . We go charging up the hill in full battle. The Germans are at the top, firing down on us. I was hit, and laid on the battlefield."
He believes a sniper cut down two of the men assigned to the machine gun squad with him and wounded him in the lower left arm, breaking both bones and severing the nerves.
After he lay still for a while, the shooting stopped. Faulconer climbed to the top and down into a long trench, which had small dugout areas every 10 to 20 yards, Faulconer said. He huddled inside, then heard voices. The Americans apparently had not taken the hill.
"The Germans came back," he said. "I knew I was behind enemy lines when I heard them speaking. I was very, very quiet."
What was he thinking? "You heard a lot of stories about what would happen" if you were captured, Faulconer said. "The Germans didn't like to take prisoners. They wanted to shoot people. That was a little scary. But the main thing, I was thinking about my arm." He dabbed sulphur powder on his wound and wrapped it, and waited.
And they didn't see him. The Germans left, and at nightfall Faulconer escaped.
Some time later, after surviving "the amputation ward" and keeping his arm, he went to a dance at Walter Reed. His future wife, then a Navy volunteer working in intelligence, was asked to join a busload of women going to the hospital to dance with wounded soldiers. She agreed.
"He had his left arm up in the air, held there by a pole" and in a heavy plaster cast, Joyce Faulconer recalled, laughing. "So I danced holding on to a pole."
Two years later, they were married. Jack Faulconer went on to earn a degree as an industrial engineer, worked for Alcoa and the Defense Department and retired in 1991.
The couple lived in West Springfield for 39 years and now reside in the Heritage Hunt retirement community in Gainesville. They have two children and seven grandchildren.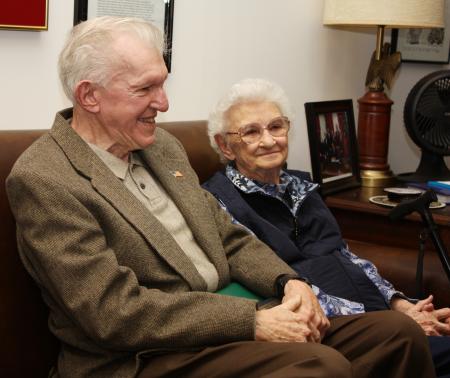 Jack and Joyce Faulconer sit in Rep. Connolly's office after receiving the Bronze Star for his actions during World War II.
After 68 years, Haymarket area resident given a Bronze Star for efforts
Keith Walker, 12/8/12
Private John R. "Jack" Faulconer Jr. saw action in WWII that earned him a Bronze Star but he didn't get the medal until Friday.
On Nov. 30, 1944, Faulconer was with the 95th Infantry Division, fighting in Saarlautern, Germany, toward the end of the 3-month-long Battle of Metz along the border between France and Ger many.
Faulconer, who was 19 at the time, was shot in his left arm as he led his machine gun squad through heavy fire in an at tempt to take a piece of high ground near German lines about 3:30 p.m. that day.
"I was three quarters of the way up the hill. Two members of my squad were killed right next to me," Faulconer said Friday moring in Rep. Gerry Connolly's Annandale office where he received the medal after a wait of 68 years.
Faulconer, who now lives in Heritage Hunt near Haymarket with his wife, Joyce, said he decided to continue for ward after he was wounded.
"I got up off the ground and found this German trench on top of the hill," he said.
Faulconer said that unlike American soldiers, German soldiers built their trenches in a series of dugouts.
"They were like little rooms. I crawled into one of those rooms and waited," said the now 88-year-old Faulconer. "I wrapped up my arm the best I could. It was a very serious wound. It splintered both of the bones and shattered one of the nerves."
Faulconer said he decided to hunker down and wait until nightfall before he tried to make it back to his unit.
"I could hear the Germans talking, but luckily they didn't look in this little room I was in," he said. "I was a little afraid I was going to get caught by the Germans. I was behind the German lines, hiding in a trench. I waited 'til dark and got out of there."
Faulconer said he kept low to the ground after leaving the trench and headed back toward his unit, found a sentry and gave the password.
"I said, 'Able, Baker, Charlie coming through,' and they had a guard there at the division perimeter and one of them found me and of course, he called the medic right away. My arm was just hanging off of me," Faulconer said. "Thank goodness they found me."
Faulconer said his first stop was at a tent that served as a hospital in the middle of a field.
"They put me on a litter and strapped me on a jeep and drove me back to the field hospital," said Faulconer, a graduate of Woodrow Wilson High School in Washington, D.C.
Soon after that, the Army sent him to a hospital in Paris where he received a Purple Heart.
He was later sent to Walter Reed Hospital in Maryland where he was awarded the Combat Infantryman's Badge at about the same time he met Joyce, a U.S. Navy WAVE crytographer specialist.
"They asked us to go out and dance with the wounded soldiers and I thought it would be nice and I met him," said Joyce Faulconer, who's been married to Jack for 65 years.
Faulconer said he learned he might be eligible for a Bronze Star, which is awarded for heroic or meritorious achievement, after talking to a retired Army colonel on the driving range at Heritage Hunt Golf and Country Club.
Faulconer said he didn't really know him, but he said the colonel told him that he might be eligible for the medal and gave him the number of U.S. Army National Guard 1st Lt. Joe Weeren, who is also an aide in Connolly's office.
"It's just one of these things. We were hitting them off the tee and telling war stories," Faulconer said.
Weeren dug into the records and found that Faulconer met the criteria to receive the medal.
Before he peresented Faulconer with his Bronze Star, Connolly said Jack and Joyce Faulconer "so represented" the "Greatest Generation."
"It is an humble and prideful moment for me to be able to present the Bronze medal to jack Faulconer," Connolly said.
Faulconer said receiving the medal brought back memories.
"The memories are very strong. You'll never forget you were on the battlefield. It's something you can't forget and it's something you can't describe to anybody what it's like," he said. "I was terrible, all those young men in the prime of life losing their lives. It was very, very bad."
Joyce said she hadn't heard much over the years about her husband's combat experience.
"He was only 19 years old. Can you imagine a 19-year-old, how scared he would be?" she said of her husband's wounding, hiding and evading Germans to make it back to safety.
She said her husband was haunted after the war.
"He had bad nightmares for a long time after we were married," she said. "He would scream. I'd have to wake him up to keep him from waking up people in the apartment."
The Faulconers' son John joined his parents for the ceremony and said he was glad his father finally got the medal, though he wasn't really seeking it.
"I think it's great for him. It's not that he was really worried about having it. He's proud of what he did. I think it's a really good thing," the son said."He's always had good stories. He's talked to my children a lot about what went on during that time. War is bad. It always is, but you've got to rise to the occasion."