Grassley Direct
In November's "Grassley Direct," I discuss National Adoption Month, Thanksgiving and the Senate's tax reform efforts.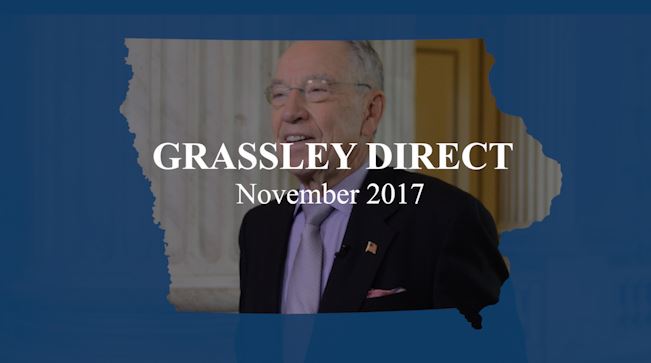 Q&A:

Vetting Foreign Investments
Q. Why are you calling for new oversight of foreign investments and acquisitions of U.S. companies?
Q. How important is foreign investment to the U.S. economy?

Quick Links
The Senate approved landmark tax reform legislation. The passage of this bill is a historic moment for Iowa and the entire country. It's been more than 30 years since Congress passed significant tax reform. The good news is that this legislation would let Iowans keep more of their own hard-earned money, increase average wages and help create new jobs.
The Environmental Protect Agency's announced renewable volume obligations fall short of the full potential of the U.S. biofuels industry. Congress intended for the Renewable Fuel Standard to drive growth in biofuels across all categories and the final rule does little to encourage investment and growth in advanced biofuels. I plan to continue working to impress upon the Administration the capability to grow domestic energy production by unlocking the full potential of biofuels.
Trillions of dollars in transactions flow through U.S. banks daily from every corner of the world, which helps generate great prosperity at home. But this also means that our financial system is prone to exploitation by terrorists, drug kingpins, and human traffickers who use money to fund their operations. I held a hearing with government witnesses and other experts so they could shed more light on the scope of this problem, and give useful feedback on my anti-money laundering legislation.
I met with Alex Azar, President Trump's nominee to be secretary of the Department of Health and Human Services. Americans were right to be outraged by the inappropriate and wasteful spending of department funds by the previous secretary. I expect Mr. Azar understands that taxpayer dollars ought to be respected at every level of every agency of the federal government. During our meeting, we also discussed the importance of lowering drug prices and encouraging competition in the health care and pharmaceutical industries.
Post of the Week