Grassley Direct
Barbara and I wish you a very Merry Christmas, a happy holiday season and a happy New Year.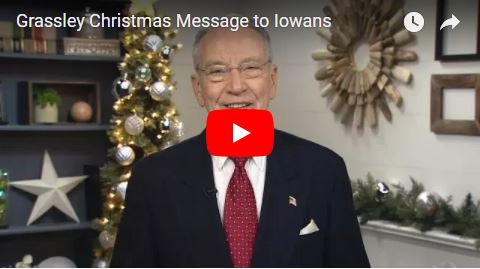 Q&A: Lowering Rx Prices
Q. Why are prescription drug prices still climbing?
Q. What other policies are you proposing to address rising prescription drug prices?

Quick Links
The U.S. Congress voted for landmark tax reform. This legislation makes good on a promise to deliver tax relief to Americans from every walk of life and income level. Its passage is good news for working families, U.S. jobs and industry and an economy that was stagnant for far too long. Iowans of all stripes will share the benefits of tax reform, and it will make a real difference in the lives of so many hardworking Iowans.
Senator Joni Ernst and I received a response from the the Department of Veterans Affairs (VA) regarding previous inquiries about their hiring practices. The VA said that the Iowa City VA doctor in question is no longer employed by the department and they have "issued a new policy to ensure full compliance with the law and a national review to verify that this policy is being implemented correctly." While we are pleased to hear actions have been taken to correct these missteps, we still have unanswered questions.
After Buzzfeed published disturbing reports of wrongdoing at Universal Health Services (UHS) facilities, the country's largest psychiatric hospital chain, I wrote to the independent watchdog for the Department of Health and Human Services (HHS) seeking information on what steps it is taking to investigate the reports of abuse. The continued reporting on UHS facilities shows an alarming pattern of misconduct. HHS must take immediate steps to fix the problems.
The Health and Human Services Office watchdog released a report that showed 855 drugs were potentially misclassified under the Center for Medicare and Medicaid Services' (CMS) Medicaid Drug Rebate Program, resulting in billions in lost taxpayer dollars. It appears that Mylan's misclassification of EpiPen under the Medicaid Drug Rebate Program was just the tip of the iceberg. That's not chump change, and it can't be swept under the rug. I expect HHS to keep their eye on the ball and correct this issue.
Sen. Amy Klobuchar of Minnesota and I sent a letter to Food and Drug Administration Commissioner seeking information regarding FDA policies on imported prescription drugs from Canada. A recent Kaiser Health News article reported that FDA sent criminal investigation agents to nine Florida stores that help patients buy prescription drugs from pharmacies in Canada. We are concerned that the FDA may be taking actions to scale back the agency's 'non-enforcement policy' that currently allows for limited importation of prescription drugs.
I nominated 44 Iowa students to be considered for appointments to the U.S. Service Academies. The Iowans who want to enter the academies and serve our country are a remarkable reflection of our state. Their accomplishments, leadership and desire to serve are exceptional and signal continued excellence in the U.S. Armed Forces. I'm thankful for their dedication to our country and wish them the best.
Post of the Week