Grassley Direct
December's "Grassley Direct" revisits the biggest highlights of 2017: passing historic tax reform to put more money back in Iowans' pockets, completing the 37th year of my annual 99 county meetings and confirming constitutionalist judges such as Supreme Court Justice Neil Gorsuch.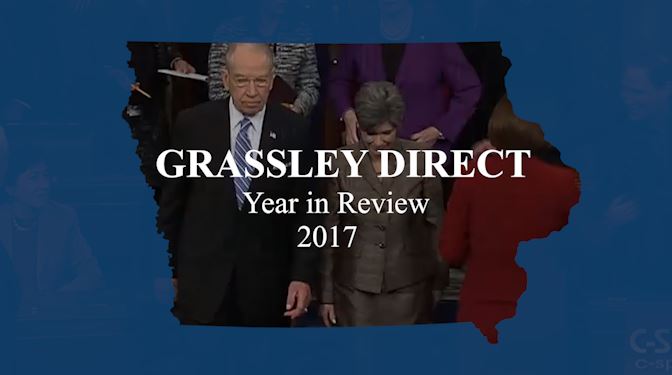 Q&A: Year in Review

Q. What was the most significant achievement of the U.S. Senate in 2017?
Q. What was the signature legislative achievement for Congress in 2017?
Quick Links
Over the course of this year:
I held meetings with nearly 950 groups of Iowans visiting the nation's capital.

I completed my 37th year of holding county meeting question-and-answer sessions in each of Iowa's 99 counties at least once.

The Senate Judiciary Committee, which I chair, confirmed

19 federal judges to lifetime appointments. Among them are Supreme Court Justice Neil Gorsuch and 12 appellate court judges, the most ever confirmed in the first year of a presidency.
Four of my bipartisan measures became law this year.

More Highlights of 2017
Take a look back at some of the highlights from my Instagram in 2017 here.
Read more about my work for Iowans in 2017 here.