January 10, 2018
Happy New Year!
As we begin 2018, I want to make sure you know that my door is always open, and that you are aware of the wide array of services my office provides to West Virginians. It is my great honor to serve the people of the Mountain State with constituent and legislative services, and I look forward to serving you in 2018.
Senator Manchin celebrating the passage of his legislation last year that protected our retired miners' healthcare benefits.
How May We Help You?
Casework
My office has closed nearly 30,000 cases since we opened in 2010. These cases include:

Veterans benefits

and

military records or issues

Seniors / Social Security

Immigration issues

,

to include passports and overseas emergencies

Health care – Medicare / Medicaid / CHIP

Black lung benefits

FEMA cases

,

especially during natural disasters

Assistance with essential needs, such as shelter, food and heating

Many other issues with federal, state and local government agencies
Jobs, Economic & Community Development
Job Fairs – We have hosted more than 25 job and resource fairs over the past two years all across the state.
Job Resource Website – I recently launched a job resource page on my Senate website. It provides job seekers with listings of available jobs, tips for developing an effective resume and cover letter, and advice for a successful interview. (

https://www.manchin.senate.gov/help-from-joe/jobs

)

Federal Grants – many agencies of the federal government regularly provide grant funding for various projects and programs. (

www.grants.gov

)

Letters of Support – I frequently provides municipalities, local development groups, non-profits and other organizations with support letters to accompany grant applications.
Meeting Facilitation – We bring people together all the time to connect the dots that could lead to new economic opportunities for West Virginia.
Facilitating Opportunities – We help attract opportunities to the state, and highlight the benefits of locating or building a business in the state.

WVU-Parkersburg Job Fair
Bringing Government to You
Manchin Mobile Mondays – Each Monday, look for my staff members to be out and about in communities across the state, bringing the services of my office directly to you.
Skypes – Every week, I Skype with a classroom or group in West Virginia while I'm working in D.C. If you would like to set one of these up, please call my office!
Public

Town Halls

or Coffees

– I hold them in communities across the state to get your feedback.

These are open forums, where West Virginians are welcome to ask any question, or provide their feedback.

Passport Fairs – We held our first last year, helping people obtain their passports, with more to come this year.
"Commonsense Connections" – Every year in May, my staff hosts mobile office hours in every county, with more than 100 scheduled visits across the state.
Visits from Cabinet Officials – I'm proud to host visitors to our state, and have hosted many throughout the years, to include the Secretary of Veterans Affairs, Secretary of Energy, Chairman of the Export-Import Bank, Chairman of the Federal Energy Regulatory Commission. I also host visitors who want to help our state, such as the CEO of the Fisher House, Ken Fisher, who is building a house at the Huntington VA Medical Center that will provide comfort to recovering Veterans and their families.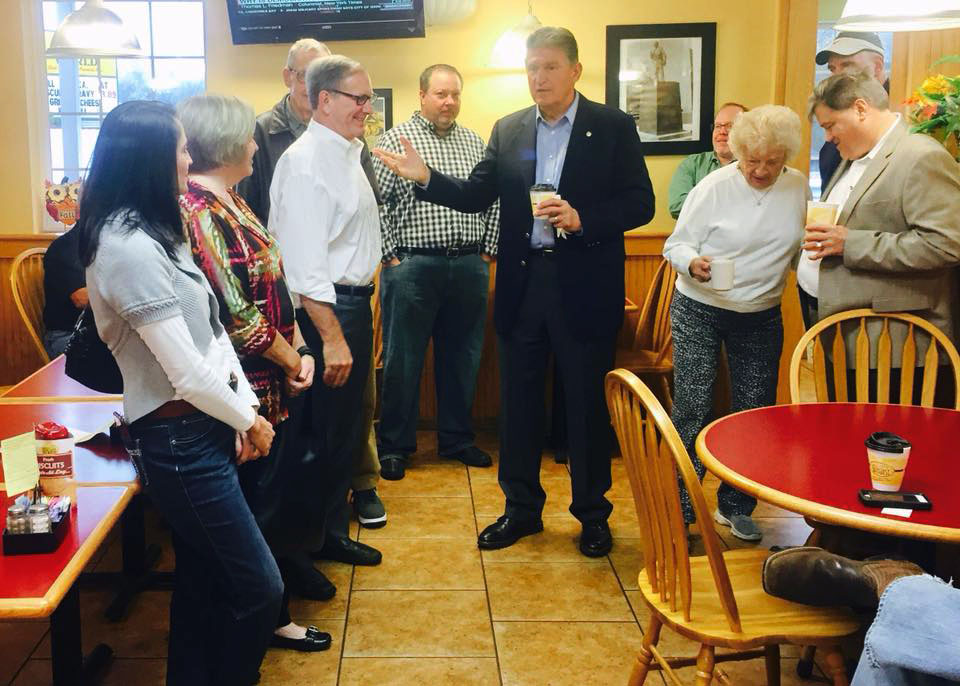 Senator Manchin meeting with constituents at an informal town hall in Hamlin.
Supporting & Honoring our Military
Military Academy Nominations – Every year, I nominate young West Virginians to our country's military academies.
Military Awards and Commendations – Helping people get the awards or recognitions they earned is one of my most treasured honors as your Senator.
Annual Motorcycle Ride for Fallen Service Heroes - Every year, I join hundred of Veterans and our fellow West Virginians in a motorcycle ride to honor our fallen heroes and their families.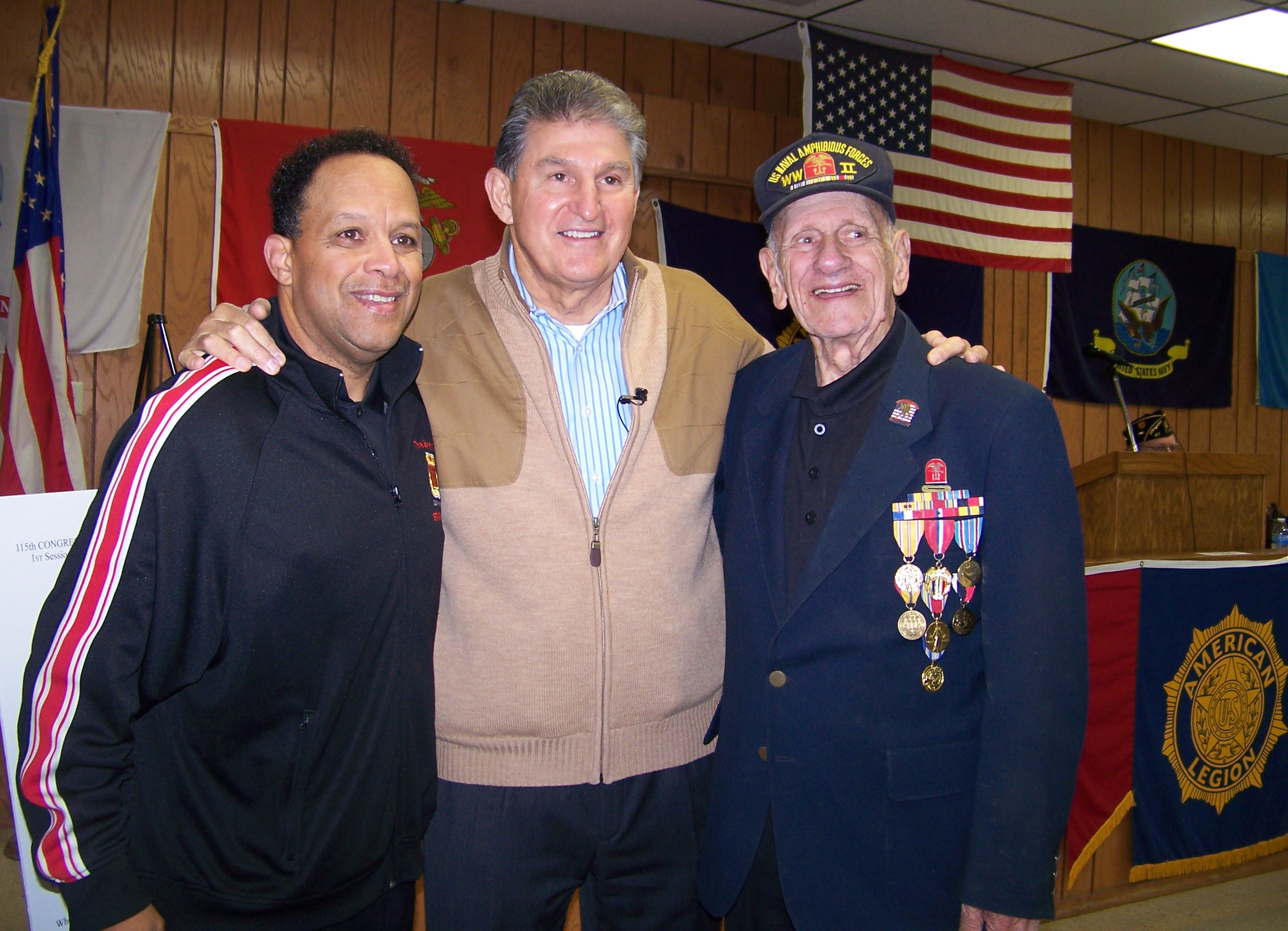 Senator Manchin celebrating the passage of the Wereth 11 Resolution.
Additional Services
_
When I'm in Washington, I take your voice with me. I currently serve on the following Senate committees, where I have an opportunity every day to fight for positive change for West Virginia:
Senate Committee on Appropriations
This is where I work to ensure that federal spending is targeted toward priorities that will strengthen our nation and protect, promote and benefit West Virginians.
Senate Energy and Natural Resources Committee
I'm proud to serve on this Committee, where I fight for a commonsense, balanced energy approach that recognizes West Virginia's critical role in our nation's energy future.
Senate Committee on Veterans' Affairs
On this Committee, I have the honor of being a strong voice for improving Veterans' services and programs, and ensuring they receive the best available care and benefits.
Senate Select Committee on Intelligence
Through this Committee, we work to provide vigilant, bipartisan legislative oversight of the intelligence programs of the federal government.
_
Through my work on these committees and by reaching across the aisle, last year we were able to make some critical changes, including:
Protecting Miners Healthcare: We secured permanent funding for healthcare benefits for 22,600 coal miners and their families.
Repealing Duplicative Stream Protection Rule: This rule could have eliminated thousands of jobs, and it was duplicative of existing regulations under laws including the Clean Water Act.
Ensuring Better Care for Veterans: By passing the Vet Connect Act, we now ensure that medical providers are aware of a patient's medical history, including any history of substance abuse, when making a diagnosis.
Removing Dangerous Drug from the Market: I successfully encouraged Endo Pharmaceuticals to voluntarily remove the drug Opana from the market after an FDA Advisory Committee determined that the drug's public health costs outweighed the benefits.
Honoring the Wereth 11: The Wereth 11 Resolution recognizes the dedicated service and ultimate sacrifice made by the 11 African-American soldiers of the 333rd Field Artillery Battalion of the United States Army who were massacred in Wereth, Belgium, during the Battle of the Bulge on December 17, 1944.
To contact me via email, please click here. To learn more, call my office Toll Free at (855) 275-5737 or find me on social media.
Please do not respond to this email, the mailbox is unattended.
To unsubscribe at any time, please click