Grassley Direct
I spoke with Sally Hart of KCII in Washington, Iowa, on Tuesday about funding the government, DACA, the Farm Bill and my 99 county meetings.
Q&A: 2017 Report Card
Q. How did your legislative work measure up in the first session of the 115th Congress?
Q. What other benchmarks measure your work representing Iowans?

Quick Links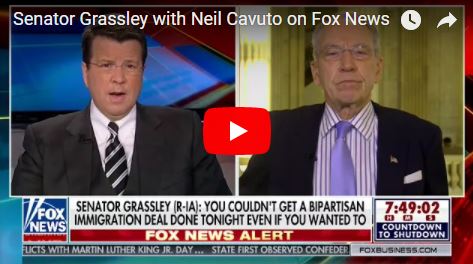 I joined Neil Cavuto on Fox News to talk about the importance of passing the continuing resolution to avert a government shutdown.
The Senate Finance Committee voted to reauthorize the Children's Health Insurance Program last year. Yet, the Senate still needs to get something passed. CHIP has a long history of bipartisan support. This is a time for statesmanship, not gamesmanship. Congress must vote for its prompt reauthorization.
The first responsibility of government is to protect our citizens. To do so, we must make sure that those who protect us have the tools to keep us safe. Reauthorizing the Foreign Intelligence Surveillance Act amendments provides the intelligence community and law enforcement with the tools it needs to protect national security while providing much needed transparency measures and increased privacy and civil liberties protections.
The Senate Judiciary Committee, which I chair, advanced 17 judges to the full Senate for further consideration. These confirmations will have an important impact on our country, not just for the rest of this Congress or presidency, but for decades to come.
GovTrack.us, an independent organization that tracks federal legislation and information about Members of Congress, recently released its annual "Report Card," a special year-end project that reports the legislative statistics of Members of Congress. The report found that I:
Got more bills out of committee than any other senator;
Got "influential" cosponsors more often than any other senator, an indicator of legislation's likelihood of passing;
Ranked the "Top Leader" of all senators, demonstrating the greatest ability to gain cosponsors;
Got bipartisan cosponsors on more bills than any other senator;
Ranked second in support of government transparency legislation;
Introduced the second most number of bills;
Ranked among the top senators in getting laws passed and signed into law;
Missed zero votes, receiving perfect attendance.
Post of the Week