Roger,

We're the political phenomenon that helped make the difference for President Donald J. Trump in 2016. We're moving into top gear to extend the WINNING -- and you have an opportunity to join us!

Bikers for Trump took America by storm in 2016 -- Organizing rally after rally that brought Americans from all walks of life and from across the country together to help elect Donald Trump to the White House and help take our country back.

Since then, the founding members of Bikers for Trump have watched all their hard work pay off as President Trump pushed through vital pieces of his America First agenda and continues the incredibly tough work -- against the "D.C. Swamp" obstruction and attacks -- needed to Make America Great Again.

But President Trump still needs our help -- and we need yours. Against an endless stream of Fake News and #TrumpHaters, it's up to US to continue rallying Americans together all across the Country to support OUR President and help elect those candidates that will stand with him to Make America Great Again.

That's why we hope you'll take this opportunity to join us by accepting your exclusive 2018 Bikers for Trump Membership offer today, Roger!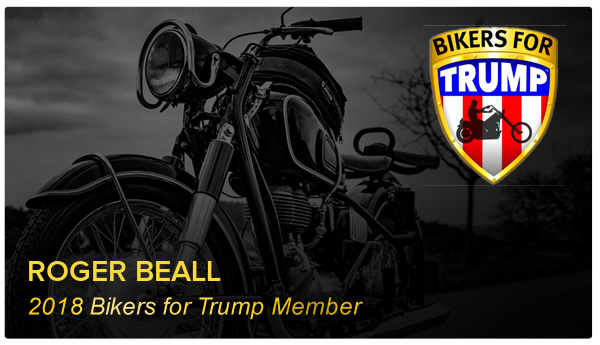 JOIN Bikers for Trump NOW and stand up against the "Fake News" and the "D.C. Swamp" monsters with a nationally known organization and truly support the President's efforts TODAY!!!