Grassley Direct
In the latest "Grassley Direct," I discuss immigration reform, the start of my annual 99 county meetings and the brave gymnasts who spoke out about the sexual abuse they experienced and the work I'm doing in Congress to help.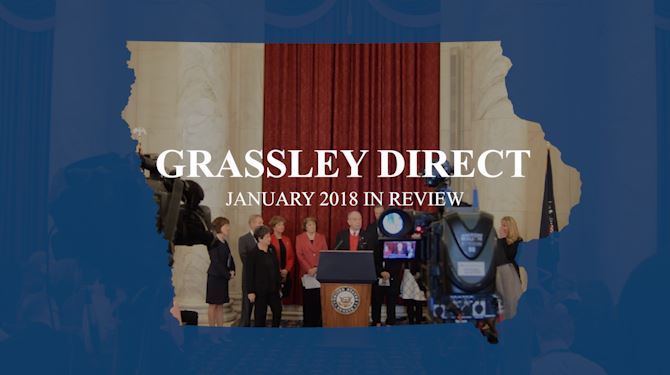 Q&A: Stopping Sexual Assault
Q. What actions are underway in Congress to address criminal sexual assault of youth?
Q. What other legislative and oversight measures are you developing to stop sexual violence?
Quick Links
President Trump, during his State of the Union Address, discussed the many accomplishments of the past year, as well as a long to-do list on behalf of the American people in the year ahead. President Trump laid out a framework for solving some of the most immediate challenges facing America, including the opioid crisis, rebuilding the nation's infrastructure, various immigration issues and the ongoing threat of terrorism.
KCAU-TV in Sioux City discussed how the recent revelations to come from the USA Gymnastics sexual abuse case led my colleagues and me to take action in Congress. Learn more about my efforts here and watch the video below.

The
EPA
announced it will delay implementation of the

"Waters of the U.S."

rule for two years while the agency permanently reconsiders the Obama-era regulation. This move by the Trump administration is welcome news. This overreaching rule would have defined 97 percent of Iowa land as a waterway, which is as ridiculous as it sounds. That's not a serious approach to making our waterways cleaner.
I'll continue to watch this issue closely and encourage EPA to explore more legitimate ways to improve water quality.
With Congress at work on key priorities and the President spelling out his goals in the annual State of the Union address, I'm focused on a number of initiatives for Iowans and the nation, which you can read about in an op-ed here. I welcome concerns and ideas from Iowans to make government more transparent, effective and efficient. I'll continue my service as a watchdog for good government, champion for taxpayers and representative for Iowans.
Post of the Week