Grassley Direct
On my weekly "Capitol Hill Report," I spoke with Mike Peterson of KMA radio in Shenandoah and Terri Queck Matzi of Successful Farming about funding the government, immigration policy, ongoing investigations, rural infrastructure and the Renewable Fuel Standard.
Q&A: Rooting Out Fraud from A to Z
Q. What drives your commitment to congressional oversight?
Q. What prompted you to start drilling into allegations of Medicaid fraud linked to pediatric dental services?
Quick Links
I discussed the Renewable Fuel Standard (RFS) on Fox Business Network. The RFS is good for the environment, good for agriculture, good for national defense and good for high-paying jobs in rural America.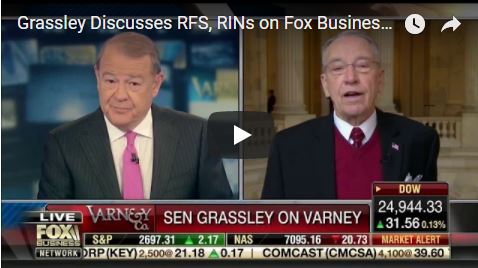 I sought unanimous consent from my Senate colleagues to confirm Secretary Bill Northey to serve at the U.S. Department of Agriculture. Without objection, Northey would have been confirmed to his post. Unfortunately, Senator Ted Cruz objected for unrelated policy reasons.
Senator Joni Ernst, Congressman Rod Blum and I pressed the Army Corps of Engineers for answers in our continued efforts to secure previously authorized funding for the Cedar Rapids flood mitigation project. We sent a letter to the Army Corps of Engineers requesting information on how it makes project funding decisions. Although Cedar Rapids has been able to rebuild after significant flooding damage, we stressed that assistance from the Corps remains vital to completing the project and protecting against another catastrophic flood.
Attorney General Jeff Sessions sent a memorandum to heads of the Justice Department instructing them to not communicate with congressional members or staffs without advance coordination and consultation with the Office of Legislative Affairs. While I recognize the need for consistency and timeliness of communications with Congress, I asked him to update the instructions that did not appear to comply with laws protecting whistleblowers. Any federal employees who want to shine a light on waste, fraud and abuse in government should be sufficiently protected from retaliation.
Post of the Week