February 6, 2015
The 114th Congress began in January and the Senate is already off to a busy start! We have already had more amendment roll call votes than in all of 2014. This is an important first step toward returning to regular order in the Senate, and will help us pass bipartisan legislation to get our country back on track. A prime example is my Keystone XL Pipeline bill, which the Senate passed after weeks of debate by a vote of 62-36. You can read more about this important bill below.
We were also successful in getting FEMA to approve Fargo's basement exception application, which means city residents can continue to protect their belongings through the National Flood Insurance Program (NFIP) without having to fulfill any additional requirements. In December, our delegation wrote a letter in support of Fargo's application because the city has successfully implemented the basement exception in the NFIP for close to 40 years.
Fargo also celebrated the NDSU Bison, who won their 4th consecutive national championship. were thrilled to witness the historic win, and we could not be more proud of the players, Coach Klieman and all of the fans who cheered the Bison to victory. I authored and worked to pass a Senate resolution recognizing the Bison's achievement.
I am happy to announce that you can now follow me on Instagram. Click the Instagram icon above or click here to visit my page. Be sure to check in often to see new posts and pictures from the Capitol and around North Dakota.
In closing, I would like to extend my thoughts and prayers to the victims of the tragic accident last month in Larimore. This tragedy was absolutely devastating, but we were encouraged by the courageous efforts of the first responders and by the many people who have given generously to support the affected families. The bravery and kindness that arose from something so terrible shows just how caring North Dakotans are, and why we are truly blessed to call North Dakota home.
Sincerely,

John Hoeven
U.S. Senator
---
Keystone XL Pipeline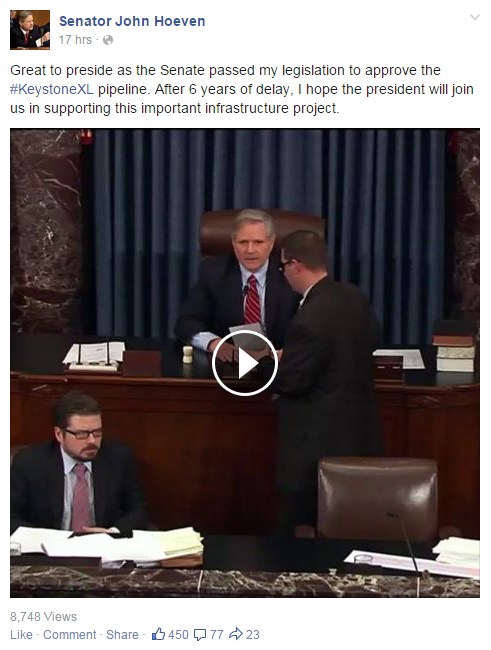 ***
Senate Passes Hoeven's Keystone XL Pipeline Bill
Infrastructure Project Would Transport Oil Safely and Efficiently

with No Significant Impact to the Environment
WASHINGTON – Senator John Hoeven celebrated with senators on both sides of the aisle as the Senate passed S.1 – Hoeven's bill to approve the Keystone XL Pipeline.
"Both the U.S. Senate and House have now passed legislation to approve the Keystone XL project, which a large majority of Americans support. The pipeline is about using energy responsibly, creating jobs, spurring economic activity, helping secure America and building the right kind of infrastructure we need to achieve all of these things." Click here to read more.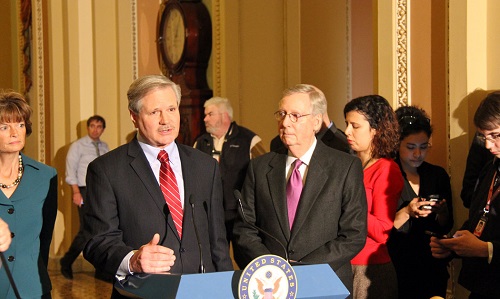 Hoeven holds a press conference shortly after the Senate passed the Keystone XL Pipeline bill.
Senator Murkowski (at left) and Majority Leader, Senator McConnell (at right) look on.
---
Lynn Aas Visit for State of the Union
Hoeven Invites Minot WWII Veteran to State of the Union
Senator Brings Lynn Aas to Washington for President's Annual Address
WASHINGTON – Senator John Hoeven invited decorated WWII veteran Lynn Aas of Minot to be his guest at the annual State of the Union Address. Aas received the Bronze Star and Purple Heart while serving in Europe with the 17th Airborne Division.
"It is an honor to have hosted Lynn Aas as my guest at the State of the Union. He exemplifies our country's Greatest Generation, having fought bravely at the Battle of the Bulge which was a turning point in World War II. He has long been a pillar in my home town of Minot, serving in the state legislature and giving back to the community." Click here to read more.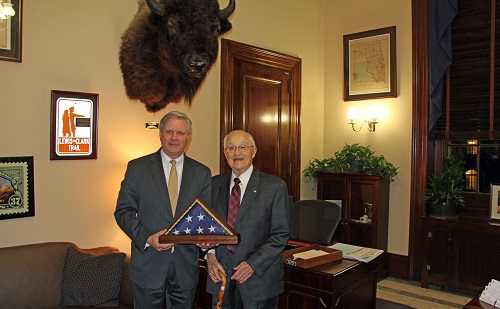 Hoeven presents a flag flown over the Capitol to Lynn Aas.
---
Red River Valley Flood Protection
USDA Awards $12 Million to Red River Valley for Flood Protection
Hoeven Helps Secure Support for Comprehensive Flood Control
WASHINGTON – Senator John Hoeven announced that the USDA awarded $12 million to the Red River Retention Authority (RRRA) to help with flood protection and other projects.
"We worked hard on the farm bill to include funding for programs that will help provide solutions for flooding in the Red River Valley. This award supports water storage for our farmers which eases flood impacts throughout the Valley, and is one of the many steps in our efforts to help protect the region from the annual threat of flooding." Click here to read more.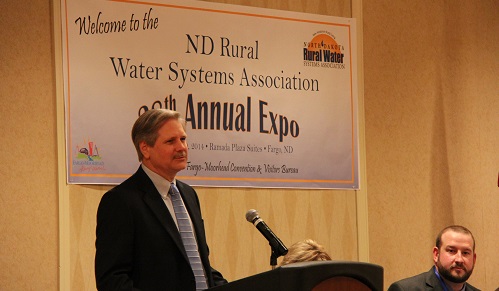 Hoeven speaks at the 2014 ND Rural Water Systems Association Expo.
---
March for Life
Fargo Shanley High School Students Lead March for Life
Hoeven Meets with Group on Anniversary of Roe v. Wade Court Decision
WASHINGTON – Senator John Hoeven met with students from Fargo Shanley and other Fargo area high schools to talk about their trip to Washington, where they led the March for Life.
"Tens of thousands of people come to our nation's capital every year to show solidarity for all life. I am inspired to see these young men and women united in support for this cause, and we are proud that they have represented North Dakota in the March for Life."

Hoeven addresses Fargo Shanley students on Capitol steps.